Serving the Inland Empire of Southern California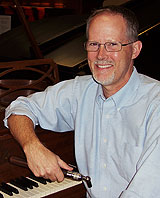 For more than 15 years, I have provided full-time piano service to the Inland Empire of Southern California. From Piano Tuning, Repair, Voicing, and Regulation, to Touchweight Correction, Keytop Replacement and Restoration, I passionately pursue the art and craft of piano technology.
Pianos are both an amazing musical instrument and complex piece of machinery. Musicians of all instruments often begin their journey into music by first learning to play piano. As a piano player myself, I know how disappointing a piano can be without proper maintenance – dull, lifeless melodies, dissonant harmonies, harsh tones and uneven key response. I also know just how inspiring a well maintained piano can be – I can hardly wait to finish tuning to begin playing it.
Choosing a knowledgeable and skilled piano technician is important to maintain both the playability and value of your treasured instrument. You wouldn't take your car to just any backyard mechanic, would you? Your piano deserves the same care and concern when choosing to have it serviced.
"Dear Ron,
Thanks for a job well done! It sounds so much better – and so nice not to have to push the key cover back! Take care – many blessings to you".

~~ warmly, Jeanne I.
It is my sincere desire to help your piano sound and play its BEST. So, explore my website. Learn about me and your piano. Use the easy form to contact me or give me a call at 951-780-8772. And while you're at it, request my FREE guide "How to Care for your Piano in Southern California". It's full of valuable information to help you take the best care of your piano in our varied and sometimes unpredictable Southern California climate.
I look forward to meeting you and your piano soon!
Ron